Spanish version of Blue Star Book PDF coming soon. This autobiographical book gives the reader a glimpse into the life of a real contactee/abductee. Read Miriam's life changing accounts of alien contact.

"Every once in a while they (the ETs) gives one of us (Miriam Delicado) knowledge that is really, really, really important and when we are lucky enough to be in the place to be able to hear this knowledge, well it moves all of us to pay attention, very close attention. " Bob Brown, Director and co-founder; International UFO Congress

Ordering your copy of Blue Star directly from this website will give the proceeds directly to the author rather than the distributor.
English Purchase Options Available

Instant eBook Download
$9.99 + Free Delivery

Paperback + Instant eBook Download ($2.00 off)
Please visit Trafford Publishing for ordering paperback editions of Blue Star Fulfilling Prophecy.

の青い星の預言, by Miriam Delicado

Japanese Blue Star eBook PDF
この自伝書を読むことで読者は本物のコンタクティ/アブダクティの人生を垣間見ることができます。エイリアンコンタクトによるミリアムの人生の変化についてお読みください。

"彼ら(ET達)は時折我々の一人(ミリアム・デリカド)に知識を与え続けています。これらの知識は本当に大切なもので聞く立場にある私達は非常に幸運です。皆さん注意を払うようになり、非常に注目しています。" 国際UFO会議の創立者の一人:ボブ・ブラウン

当サイトにて『青い星の預言』の購入手続をすると、販売業者ではなく著者にて直接処理されます。

Ebook(今すぐ読める)ダウンロード
$9.99(送料無料

New Blue Star Fulfilling Prophecy T-Shirts are in, Free Delivery!
Front: The new Blue Star Fulfilling Prophecy Logo
Back: "One voice, one people, one Earth. Be responsible and others will follow.
Remember who you are, we are all connected. Speak from your heart, speak clearly and together we will create the change we need in the world."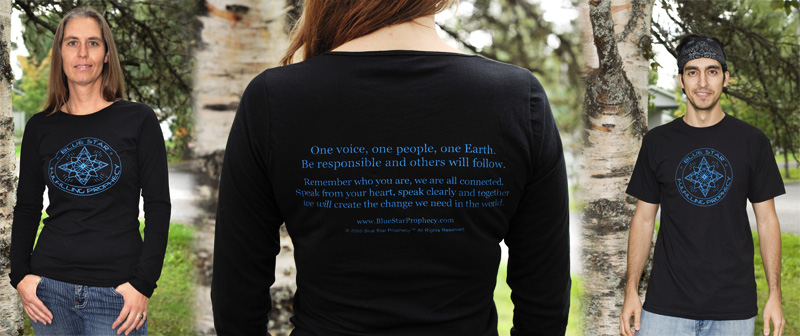 Women's Black "Fitted" Shirt 100% Cotton – $45

This is the same style Miriam is wearing in the photo above. This cut is fitted with longsleeves. 100% Fine Jersey cotton construction. Preshrunk to minimize shrinkage and machine washable.

With the new Blue Star Fulfilling Prophecy Logo on the front as shown, and the quote on the back "One voice, one people, one Earth. Be responsible and others will follow. Remember who you are, we are all connected. Speak from your heart, speak clearly and together we will create the change we need in the world."

Men's Black T-Shirt 100% Organic Cotton – $40

This is a standard Mens style. Made from 5 oz 100% Certified Organic Cotton. Preshrunk to minimize shrinkage and machine washable.

With the new Blue Star Fulfilling Prophecy Logo on the front as shown, and the quote on the back "One voice, one people, one Earth. Be responsible and others will follow. Remember who you are, we are all connected. Speak from your heart, speak clearly and together we will create the change we need in the world."

Body Width: S=18″, M=20″, L=22″, XL=24″, 2XL=26″

Women's Black "Unfitted" Shirt 100% Organic Cotton – $45

This cut is unfitted with longsleeves. 100% Fine Jersey cotton construction. Preshrunk to minimize shrinkage and machine washable.

With the new Blue Star Fulfilling Prophecy Logo on the front as shown, and the quote on the back "One voice, one people, one Earth. Be responsible and others will follow. Remember who you are, we are all connected. Speak from your heart, speak clearly and together we will create the change we need in the world."